The film begins with a man in a kitchen. It's the scene of a revolution, he says, where men and women are renegotiating the human power balance.
When you don't get much time to sit and read, a good documentary can be the greatest thing.
I found one that really pulls it all together. And it's over 25 years old!
Dr. Gwynne Dyer is another new name to me. He's getting up there these days but still maintains an active publishing and speaking career. He even has a Twitter.
He's a journalist and historian who's taken his education and experience and synthesized a unique perspective. He uses it to spell out the origins of Patriarchy.
He explains why it first emerged and how it's become an outdated handicap.
Filmed in 1992, the backdrop of the inaugural festivities of President Bill Clinton provides its starting example of The State. Militarized, hierarchical.
Then he takes us all the way back to the cave times. Hunter-gatherer societies were different depending on their circumstances. Some were warlike boys' clubs, but others were egalitarian.
Dr. Dyer tells us that, before agriculture, there is little evidence of one sex being considered superior. Then with the advent of farming – "probably invented by a woman" – men suddenly lost their role.
A Men's Revolution
During the village time, the members of the village discussed things and came to a consensus of how things would be. But women oversaw the homestead.
Fertility goddesses reigned supreme. Hunting was no longer necessary, and men took a back seat. He tells us archeologists find 100 female fertility figures for every one male figure from this period.
But perhaps most gut-wrenching of all was that, at the birth of the concept of Wealth, a man's property was passed to his sister's child when he died, not his own.
You might not know who a child's father is, but you always know who the mother is.
Dr. Dyer tells us about "the makings of a revolution, ….so old it's not in the history books." Men took over and spent thousands of years taming the power of female sexuality.
As agricultural villages coalesced into nation-states, a full quarter of the early Mesopotamian laws were restricting what women could do.
Huda Lutfi taught history at the American University of Cairo in 1992. She had many amazing things to say in this film. She was studying women in Medieval Islam, which meant reading between the lines.
Women in Medieval Islam are invisible. They wrote nothing and left no records. She says she knows what they were doing by what the scholars wanted them to stop doing.
Why Would Our Men Do This to Us?
Why did men, who basically cared about their mothers and wives and sisters and daughters, cooperate in such a scheme?
As civilization became bigger and more complex, tyranny was the only way to keep everyone together. Ruling by terror was the only way to communicate to the masses.
Dr. Dyer shows us how the great pharaohs' tombs are surrounded by hundreds of other graves belonging to servants and slaves. "Absolute power corrupts absolutely. Welcome to civilization."
Defending Their Country Gave Men Status.
These men who stepped up to fight other aggressive men offered men in general a much-needed status boost.
"Sure," says Dr. Dyer, "you'll have to obey us but you'll have control over your women. And your property will go to your sons when you die."
And Patriarchal religions tied it all together, the Universe a perfect hierarchy with God at the top. Then man, then woman.
The tyranny necessary to create and defend a nation is fueled by soldiers. If women have freedom, the birth rate drops because babies are a lot of work. And women develop other interests.
Reducing women so our only place in society is childbearing is how you get enough soldiers to win.
"Men Were Never Oppressed."
Dr. Dyer tells us how global mass communication is chipping away at "the old ways." Global culture is, by its very nature, more cooperative. More feminine, I suppose, if only by virtue of women participating at all.
One thing that hits me that Dr. Dyer doesn't really dwell on is, "men were never oppressed." When women have freedom we don't use it to lock men away. A woman-lead society is a more equal society.
I believe part of this is because of innate differences in perspective. The interconnectedness of people can be a brutal force in your life when you make people with your body.
And when that body and the world remind you of this possibility incessantly.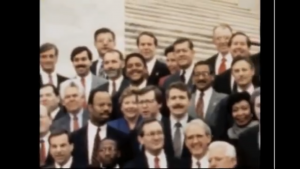 Patriarchy Will Fall
A record number of women were elected to Congress in 1992. One of them was Elizabeth Furse from Oregon. She tells the story of taking the group picture on the steps, she was at the top, in the back.
Just in time, two white men stepped in front of her. "There's no me, it's almost like I'm not there."
Above the pageantry of the 1992 inaugural parades, Dr. Dyer tells us that Patriarchy is slowly collapsing.
"After 5,000 years, Patriarchy is not just in our institutions, it's in our heads. But it is not in our genes.
"The problem is not 'human nature,' it's that mass societies are still trapped inside the ancient machine they built thousands of years ago, to deal with the problems of thousands of years ago.
"The machine called Patriarchy was the only way to run an early mass society. It was refined into both a killing machine and a breeding machine as the early mass civilizations started fighting one another. And we conquered the whole planet with it.
"But now, our weapons have become so destructive that we can no longer afford to fight major wars. And we don't actually have to live in patriarchal dictatorships anymore. Mass communication means that we can be democratic.
"Patriarchy no longer makes sense as an institution."
From Soldier To… Daddy?
As a white man and military historian, he has no ax to grind here. I think this makes his words that much more insightful.
He leaves us in the kitchen where we began, saying men and women are renegotiating the most fundamental human partnership. He offers this as reason for hope.
He doesn't specify what partnership he means but, as he shares a bite with a little girl in the final shot, the meaning is clear.
Reproduction and raising the next generation is both the biggest burden and the biggest opportunity we have to impact the future. In modern times, women have asserted our rightful place of power in the system.
We don't want to enslave men. We want our reproductive capacity to not be weaponized against us.
Dr. Dyer's hopeful tone stands out to me because many of us are good at pointing out where Patriarchy fails us, but so few have an inkling where we are going from here.
He leans into snark a few times, making his own feelings clear: Patriarchy is on the way out, and everyone will benefit. Just as a natural result of the evolution of society.
This information should be everywhere. It should be in children's books and kitchen conversations.
Understanding our past will enable us to consciously create a better future. So few of us have any real understanding of the causes or the effects of the societal structure we live in. We tend to take it for granted (or even claim it doesn't exist!)
We can't afford to go stumbling into the future without a strong understanding of ourselves.
Watch the movie, it's less than an hour long. It explains everything.