Trans Attacks!
Previous Story
Next Story
Warning
: DOMDocument::loadHTML(): Tag figure invalid in Entity, line: 16 in
/home/customer/www/brazenshe.com/public_html/wp-content/themes/anioncreative/single-post.php
on line
37Warning
: DOMDocument::loadHTML(): ID i4c-dialogs-container already defined in Entity, line: 38 in
/home/customer/www/brazenshe.com/public_html/wp-content/themes/anioncreative/single-post.php
on line
37
For those keeping score at home, the Facebook trolls have not let up yet.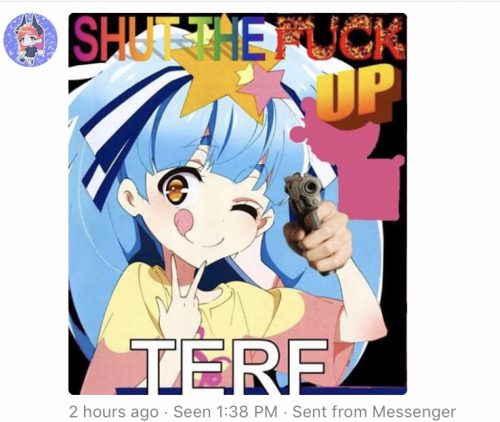 They took my walking away after two and a half hours this morning as some kind of victory. But guys, I have stuff to do!
They threw a couple studies at me, but the majority of it has been vitriol demanding my submission.
It's all public record and I encourage anyone to go read it, if you have the stomach.
It's Raining Crap!
The onslaught has taken various forms.
There's the ever-popular repetition of meaningless slogans

And some apparent confusion about those slogans?
I was threatened repeatedly.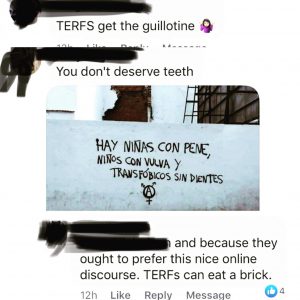 But the most interesting part was being told about my own political beliefs.


There was some strangeness, too.
And, of course, just a lot of pointless insults??
These are but a few examples I spent a few minutes collecting. To post them all would take all night.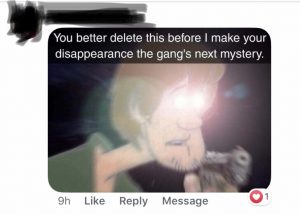 It's still going on as I write this. The post that started it all has blown up. I have gotten 13 new followers so far.
Unfortunately for them, I have not been cowed. Or "educated." I had been thinking of taking BrazenShe in a more overtly political direction next year, there are lots of women's issues at stake in the election.
This week has shown me that opinionated women are still shat upon. Even in the US, where we are supposedly a beacon of freedom, they flocked like moths to a flame to put me back in my place.


"TERF" is a slur, in case anyone hadn't caught that already. Not that they need it, having no problem calling me scum and a cunt and a bitch and I don't even remember what all.
After a while, all that negativity does begin to weigh on a person. Happily, there were a few brave souls who stepped into the fray behind me.


And even if I had been alone in this, nothing changes based on what a bunch of internet trolls say. Female oppression is still a thing. Gender roles are still Patriarchy's favorite method.
Trans politics ignoring all of this and codifying gender stereotypes into an unquestionable religion is shockingly offensive.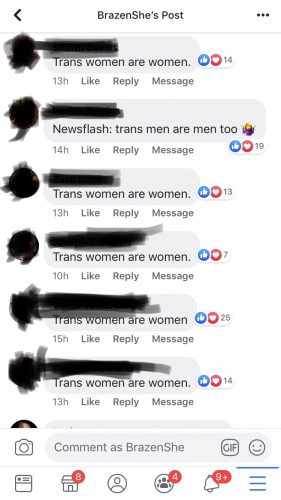 Society uses our bodies as the reason for our subjugation. People are much more than just bodies, but physical form matters. It affects our life experience and how the world treats us.
To say women have some feminine essence is to imply we have been complicit in our own oppression.
Fuck
That
If you are upset by this, go in peace. I'll see you on the flip side.
If you are on board, good news! This loudmouth bitch is only going to get louder.
Laws are being changed. Canada is now recording crime according to gender identity. ("The variable 'Gender of person' and the 'Classification of gender' are expected to be used by most social statistics programs.") The UK is on the precipice of Self-ID becoming law.
Male violence is arguably the biggest issue women face. I could swear 20 years ago, everyone knew this! If we can't name the problem, if we are robbed of our privacy, we are left defenseless.
Stand with me and speak out for women's rights. Your daughters will thank you.
***Stay tuned for the first installment of our Feminist Education Series, and the finale of the Summer Series, Fight Despair Together. Because I haven't forgotten that everyone could use a little personal growth.***